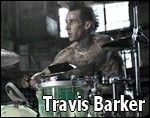 Travis a posté un nouvel article sur son blog myspace, pour remercier les gens qui l'ont soutenu et parle de son accident :
"Thank you
I want to give my deepest thanks to everyone who has helped deal with the current situation. First and foremost, Chris and Che were my friends. I would give up anything to have them here with us today, healthy and happy. To call them my employees does them such a disservice, as they were so much more than that. Chris was my best friend before anything else, and I can never put into words how much he will be missed. Che was an amazing person as well, and I was honored to have him in my life.

I am simply amazed and will be forever grateful for all the support everyone has shown to Chris and Che's families. Its a testament to how many lives they touched in a positive way.

Hospital Life!
Like the doctors said from the beginning, its been a slow recovery process. I am coming up on the 7th of my surgeries Monday. Today I finally was able to move all my fingers on my right hand. Every step seems huge at this point, and Im doing EVERYTHING I can possibly do to get back to my kids. Yes, I did start eating meat again, but if it helps me to be home holding my little humans sooner, then its all worth it. The staff here are all bomb! Dr. Grossman and his staff are the best. The BOSS Barbara, and nurses Betty, Jay , Emily, Julio, Lolita, and Stephanie (with the best scrubs ever!) are all taking the best care of me."
Pour lire la suite cliqué ici.